HOLI HAI IN DELHI, INDIA!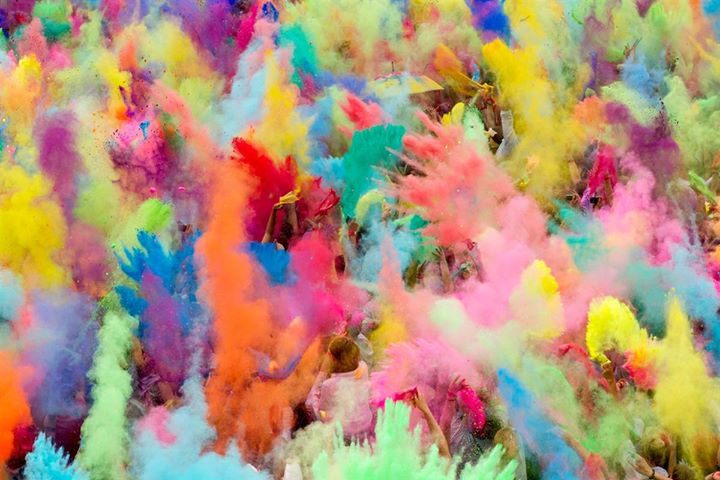 I always wanted to play Holi in India. While I was growing up, it was considered a " dirty, filthy " holiday full of water balloons and did-I-just-get-molested-moments and so, my family and I didn't celebrate Holi. We barricaded ourselves inside our house instead, until the over-enthusiastic gangs roaming the streets, looking to smear gulaal color on defiant Delhites had subsided.
(Holi got its name as the " Festival of colors " from Lord Krishna, a reincarnation of Lord Vishnu, who liked to play pranks on the village girls by drenching them in water and colors.)
In my adopted homeland of U.S., I re-discovered Holi as a boisterous festival played with passion by those of Indian heritage. My kids love the gusto and community spirit that pervades Holi celebrations in my neighborhood in San Francisco, CA.
This year I was going to be in Delhi during Holi and I was curious to revisit this holiday in my hometown. Was it any
different from my growing up years when Holi was synonymous with inebriated young men who used the festival as an excuse for groping? Would bhang (a intoxicating concoction made from leaves of the canabis plant) be served? I was excited, but filled with trepidation.
After attending a couple of private gatherings at farmhouses in Delhi, I can vouch for the fact that Holi remains one of the most beloved Indian festivals. This Holi day I was like a child wanting the birthday party to never end.   There was no bhang, but there was an open bar stocked with everything from Grey Goose to beer, as well as non-alcohoic drinks.  There was non-stop live band jamming sessions and popular commercial music played by DJs at both locations. It was 90 degrees weather - perfect for the overhead water sprinklers that made every move a rain dance. Vegetarian and non-vegetarian food was served at the catered open-air stalls.
The difference between what I remembered and what I experienced? There was heavy police presence on the streets to prevent untoward incidents from happening. The only colors used were organic. Nobody smeared color on me without my permission. Nobody drenched me with a pitchkari (a water gun). A tikka on the forehead was customary, but beyond that, the limits were set by the group of people you were with.
It's all about the experience, and Delhi really knows how to party! If you're visiting .  . . you don't want to stay indoors.